Resume of Zen with old photo
prophase(1959-2000)
【Background】
Now is not the time of Ishin which Ryoma Sakamoto etc lived through being anxious about Japan's future against perry's fleet. And now is not also the time of early Syowa which many innocent japanese people were killed in that tragic wwⅡ. With 50 years old close at hand, I decided to write my life from birth to now so as to think about how to live from now on with a little bit of shame. The times go by from the age of rapid economic growth to the bursting of bubble and the low birthrate and aging era, it may be important to contribute to our society with the rest of my life.
I was born at a Red Cross Hospital in Okayama prefecture on April 4 , 1959.(the middle of Showa period)
My father's birthplace is Karatsu city in Saga prefecture.
My mother's birthplace is Okayama city in Okayama prefecture.
Lutheran Church Kindergarten : Hatahara Doori Nada Ward in Kobe City
I spent my childhood in Kobe playing sandlot baseball and so on as a drooling kid
It was a great fun for me to play sandlot baseball and so on with neighboring kids every day at Hatahara Inari Shrine or Shinohara park Nada ward in Kobe city.Concerning pro-baseball team, needless to say, I was a fun of Hanshin Tigers, however, a cap I had on wasn't Hanshin Tigers'. It might have been Nankai Hawks' or Nishitetsu Lions' ??? I don't know. If anything, I might have been a fun of great pro-baseball players of 12 teams in Central and Pacific league in Japan.
Shinohara Park
left side:Maya mountain / rite side:Rokkou mountain
The Rokkoh river from Mt. Rokkoh and the Somadani river from Mt. Maya met here and become the Toga river which had been famous for the Guerrilla rainstorm flood in 2008 many chirdren playing the riverbed promenade sacrificed. In those days, I had been going down the bottom of rivers to look for and pick up the lost balls flying over fence. There had been the thrilling playing to move into newly established dark sewerage pipe. When it rained, the rivers rose with roaring sound and made me scared to cross a small brige. "Sasameyuki" full-length novel by Junichiro Tanizaki describes Kobe great flood by which many people were sacrificed at the beginning of Showa period.
Togagawa
left side:Somadani river / rite side:Rokkou river
The one-storied tenement house with 4 compartments in my memory
There had been an old wooden house lengthways into four units which I lived in my childhood, now could never see again due to the Great Hanshin Awaji Earthquake, I was fond of summer Jizo Festival full of various colors lanterns in every alley and human warmth. There might have been the thing that I was scolded eating sweets offerings to Buddhist ・・・My living environment at that time had not been so affluent but I had been treated well receiving old books and clothes by a remote relative. I did not mind at all what to wear and what to eat. If I felt hungry, I always ate Chiken Ramen with eggs Yakisoba, Okonomiyaki, Takoyaki and so on especially Akasiyaki in hot dashi broth soup. Anyways in the age of no video game, I had been running around outsaide with neighboring kids. I had good memories of infancy and childhood in Kobe.
Oinarisan at the playing spot
Television made progress from black-and-white to color, I grew up watching "Tetsuwan Atom" "Tetsujin 28" "Popeye the sailoman" "Thunderbirds""Hyokkori hyotanjima" "Ultraman" "UltraQ""Kyojin no Hoshi" "Ge Ge Ge no Kitaro" and so on. I used to imitate "Ninjabutai Gekkou" with sword a toy on my back.
The entrance ceremony of elementary school April in 1966 with my mother
I was going to Kobe city Maya elementary school until the autumn of 4th grader. During early school years, due to my mother's long-period hospitalization and my stuffed nose, my documents of school reports was very bad like a march of duck except physical education, 2222・・・5
prolonged stay in Karatsu city of my father's home with my cousins on Karatsu beach
There had been an old blackish memorial school building which might have been called Showa stately modern architecture. It was called that the wall had been painted by black tar in order to avoid an air-raid. I remenber from time to time like revolving lantern the smell of wooden floor polished by oil, uneven hight wooden desk and chair and something fun that happened in the class and farewell party . I wish I could have graduated this school learning at 6th grader's classroom at bell window on the 3rd floor.
Maya elementary school in Kobe city
At the time of 5th grader in Takatsuki city elementary school, baseball cap was Giants?
Minami Ookanmuri elementary school in Takatsuki city
I moved to Takatsuki city in Osaka prefecture from Kobe city in Hyogo prefecture. I had lived here for 5 years and a half, Takatsuki city Minami Ookanmuri elementary schools' 2 years and a half and Takatsuki private junior high school's 3 years. New residential area as it was, there had been wide rice fields with night soils and I could have hear big chorus of frogs. What is more, there had been snakes, turtles and yet to be confirmed freshwater fish in an irrigation canal and marsh. Rapid-growing economy, Oil shock and so on. An international exposition had been held in this period. It was the age of early prefabricated houses which was cold in winter and hot in summer.
Junior high school days
I might have been studying very hard in Private Takatsuki junior high school which was boys'school for 6 years consistent education . There had been the old wooden two stories school buildings which were unfortunately destroyed by fire in my period. Its school uniform was like a navy one. Actually I might have been longed for it. This school had been established to aim the old-education-system high school by the chairman of Private Osaka College of Medicine, and had become sister school with private Nada school. I graduated this junior high school on the way to high school. Looking back, there had been gathering many students who failed the entrance exams to Nada junior high school from Osaka, Hyougo and Kyoto prefecture. However there were a few students bright enough to enter Tokyo university.The club activity was a badminton that became very famous as Ogu-Shio pair later. I think that practice was very tough. I did my best in vice subjects, too. Especially in Fine Arts of an oil painting and wooden sculpture , I got a high evaluation by the teacher(Kenzou Kosaka great painter). After that I entered Osaka Prefecture Kitano high school. Mr. S of the same period of Takatsuki Junior High School entered Kitano high school and had been selected as a captain of Japanese high school rugby representative team. (http://rikuryo.or.jp/news/090613.html)
Private Takatsuki junior high school
the Tower of the Sun (Senri Banpaku Park)
I was impressed the words "Art is an explosion" by the late artist Taro Okamoto.
By way of Senri international exposition in Osaka, 1970. I moved to Toyonaka city in Osaka prefecture, 1975. I became Toyonaka citizen. I had been living in the wide and old wooden house with a white wall near the back gate of Osaka prefecture Toyonaka high school. There had been many rooms in this house and my parents had rent it for Mr.N who was a medical student in Osaka University and Mr.S who was a student of the law department in Kansai University as a lodging room. I was a high school student at the time, they had taken care for me like a brother. I thought college students would have fun.
There had been gathering many junior high school and high school students to the private English juku that my mother established. For about 10 years, I think that it had made contribution to society. She had made many students of Toyonaka high school and so on pass the entrance exams of 5 gaidai in Tokyo, Osaka, Kobe, Kyoto and Kansai.
High school days
I could not have been concentrating to study at all in Osaka prefecture Kitano high school. As a result, I had completely fallen out. Thinking that I might run out of time to study, I did not have the guts to become a member of traditional baseball club that had got the victory at Koshien,too. I became a member of tennis but quit in a flash. After all I was in the table tennis club one and a half years and another culture club, ESS, Biology club and Art club in a short time as a ghost member.
With younger female cousins of Karatsu in summer vacation
It might have been painful in a way that I could not have the clear hope what I would want to be in future. Dissecting of the snake in Biology club, I found out that I was not fit for doctor. I gave up to go on to the medical department of national university in a flash. I did not dislike mathematics but went into a huge maze partially and could not get out in a time. No matter how much I solved, I could not get beautiful answers. I should not have studied a technique of solution but an essential qualities of mathematics more slowly.   
Osaka prefecture Kitano high school
Traditional Showa school building of my memory. There had been a splendid modern architecture building covered with all scratch tile. I disired to make it preserved for a long time.
Rikuryo Reunion

Actor the late Mr. Hisaya Morishige <44-45th>
Comic Artist the late Mr. Osamu Tezuka <59th>
Osaka governor and mayor Mr. Tooru Hashimoto <100th>  hopeful younger generation
IT hero mixi founder Mr.Kenji Kasahara<106th>
hopeful younger generation and so on



Lecture in Rikuryo Talk Relay 2006.12.13 Mr.Kenji Kasahara



Lecture in Rikuryo Talk Relay 2015.03.07 Mr.Toshiaki Hirose




Lecture in Rikuryo Talk Relay 2007.12.01 Mr.Goro Yamada
Talent Mr. Goro Yamada <89th> Surprisingly, he was a senior 1 year older in Art club・・・!
At that time his hair was bushy...



Final in Sprint 100M
Athletic Festival in 3th grader of senior high school

Victory Mr.F 11.7 seconds Athletic club / the right end Zen 12.8 seconds. Difference of 1 second was big enough to separate me widely. I finished running watching next Mr. O's sole of foot who was classmate of 1th grader, basketball club. Mr. W who recorded 12.1seconds was my good friend, classmate of 2th grader, same district from Toyonaka Station and trained intensively to win the race for this day with him.



2nd run Zen receiving the baton from Mr.T 1st run (rugby club)

10 classes Sprint Relay of 3th grader.2nd run Zen receiving the baton from Mr.T 1st run (rugby club). By a rocket start ,nearly catching up with 1st place runner in the middle but stalling speed in the end and in the dumpling state to the following runners



2nd run Zen passing the baton to to 3ed run Mr.H (basketball club)

2nd run Zen passing the baton to to 3rd run Mr.H (basketball club). It can be seen a sight of Zen's relief keeping the same 2nd place (minimum nesesary working). Our 6 class finished second place as an anchor Mr. M (baseball club), keeping the same 2nd place, too. 10 class won the victory, 3rd runner Mr.S (rugby club) and anchor Mr.W (100M 2nd place)

Still more, there had been a cross country race in winter as a traditional event and we all had to run 10 kilometers along the Yodo riverbed. My running record was just 100th in all 260 male students. If it were my school grade ranking, it would have been great.

I could have somehow graduated science class with struggling physics, chemistry and mathematics. However this hardship was not useful at all to college entrance examination. I could not help laughing ...but I am satisfied with myself that the experience of a hard time might have been connected with my next-generation's DNA.

Both my parents had graduated Kobe city university of foreign studies. As my father had been working at a trading company, and my mother teaching English at a school, I might have thought it better to follow them. In the end, I challenged national Osaka university of foreign studies that is now Osaka university foreign language department but failed. There might have been the way to find employment at a private enterprise or a public service. However, acting on my mother's advice, I could go on to private Kansai university of foreign studies, Britain and the United States language study department (making much account of active international exchange and practical science). I could get the English teaching lisense and play baseball for 4 years, too. I appreciate very much to dead mother.





College days



Kansai Gaidai

The history of Kansai Gaidai is going back to the end of World War Ⅱin 1945. In the ruins of the defeat, we entrusted foreign language education with a strong determination not to repeat such a war and took the first step. There had been the founding philosophy "cultivation of human resources with abundant culture that contributes to the international community" and "practical science that responds to the demands of the times and society based on a fair world view".

There had been about 100 exchange students chosen from each school year by TOEFL and going to partner universities in USA and all over the world. In my case, I had been playing baseball with foreign exchange students of USA, David...and so on. There might have been gathering many students having an eye on interpretation. The founder of ECC had graduated this university. The number of exchange students is the best in Japan. [2nd is Waseda university] There had been not a few native students who loved English more than meals. Kansai Gaidai established with junior college and graduate school may be great for students who want to become interpreters and teachers. There have been appearing some graduates who were making career and became the presidents of listed enterprises.



Hitting a strong ball around the center with the bamboo bat to do team play

I had been playing baseball for 4 years while at college as a member of baseball club that has been a dream since I was a kid. Fortunately I could go along with foreign exchange students who joined baseball club. I was good at hitting a strong ball around center with the bamboo bat [It doesn't break, but the flight distance doesn't come out] to do team play.
2nd league in Federation of Hanshin University baseball
Outfielder, best batting average .298, waiting best nine one time,
170cm 60kg / 100m sprint 12 second half / speed eye max 130km Federation Referee and Deputy Captain and so on



Zen: shouldering the base with left shoulder and on the way to baseball ground with Pitcher Nishio

The manager of those days was a dandy old man who was working at Toyota Motor Corp. He had played baseball as a pitcher at Tsuruga highschool [strong prestigious school in Hokuriku region]. His son Mr.Toda was a member of pro-baseball team Hankyu Braves as pitcher at the time and had been famous for his strikeout record as pitcher of PL Gakuen in Koshien . We were taught the first step of baseball completely by him. Present younger generation are strong enough to be in the first division of Hanshin University baseball Federation. They are making an effort to take part in Jingu [All Japan University Baseball Tournament]. But in order to do that, it is necessary for them to have to beat the top teams that are Osaka university of health and sport sciences, Tenri university and so on. Now there have been emerging a player nominated at Pro baseball Draft.

What I had done before graduation was the traveling alone all over USA going around from Los Angeles in the counterclockwise derection by bus. Everybody could do it if there were even courage. But there were with a little bit of thrill. I spent all the money I saved from my part-time job and the student loan from the bank



Traveling alone all over USA by Greyhound bus



To face the Mississippi


 
Grand Canyon in Arizona


 
Dallas


 
Houston


 
New Orleans


 
with a Yale Univ. student


 
White House in Washington


 
Subway in New York


 
Niagara Falls


 
To face Lake Michigan of the Great Lake from the top of Sears Tower in Chicago


 
Golden Gate Bridge in Sun Francisco


 
SeaWorld in San Diego


 
with a Greyhound bus driver

Thank you very much for the drivers of Greyhound bus!!
It may be important to break through without being afraid of anything.




Teacting Practice

I finished the teaching practice to get the English teaching certificate at alma mater [Kitano high school]. It might have been a very good memories for me to teach English to super talents with breaking out in cold sweat. But fortunately I had a generous evaluation. I should be grateful to Mr. Gou Kawahara [the late my splendid English teacher] all my life. I could accomplish the initial goal to get the English teaching certificate and graduate this university,1982.




I challenged an employment examination of Osaka prefectual high school English teacher but failed as planned lacking in study. Only the essay test "How to confront school violence" is still in my mind.



Good friends gathering from Kyusyu to Hokkaido. Zen is right side in Graduation Album

Anyway from this time, I bigan to drink too much with my good friends.Center is Mr. Shoh Asai introducing me facebook quickly from USA.



The same period members of Basaball Club
Captain Seshimoto, Zen, Pitcher Nishio



Mr. Masafumi Shoh Asai in the same class D [Kobudo Club]
at the trace of Yukimi Gosho in Kobe Fukuhara Palace built in 1180 by Tairano Kiyomori
[2010.10.10 photo by Zen]




There seemed to have been some younger generation, I didn't know at that time.
Mr. Kakuta who is famous for K-1[Kakutogi] founder in Karate club
Chizuru Azuma in Junior college female entertainer





To a member of society from a student

In harsh job hunting, luckily there had been a good relationsip in Daiwa House Industry Co.,Ltd. As a result, I knocked on the gate and entered this company on April, 1982. At that time, it had overseas affiliated firms exporting various kinds of prefab houses in USA and so on. But immediately by economy slump they withdrew from there and left overseas projects in small scale only in Chaina unfortunately. As a result, it had become the mission for me to work in the field of construction sales as a member of private major general contractor company.




I might have been taken with "modern building" somehow since I was a little, and there had been the time to aim department of architecture, faculty of engineering at the university. It might have been something destiny. However, this company's theme of the work was not "modern building" but "industrialization of building".

New employee in 1982 had been said an instantaneous water heater by mass media. Looking back, it had been severe age of mass-recruitment and mass-layoff for us. The turnover rate first one year later of this company might have been about more than 50%.

This company had already been the listed enterprise at that time. There might have been no school tie ( Gakubatsu ). But there had been strict meritocracy. If the work assigned could not have been finished, we used to see the meeting of hell the ashtray flying in the conference room. At the time of a new employee, my mission was the visitting 100 companies a day. My new leather shoes could not have on within less than 3 months because of soles wearing down. However, fortunately I could have got the guts of salesman. It was helpful to have been registered at the baseball club for university four years.

In regard to construction sales buisiness, I had been proposing building sales accompanied by tax practice plans so as to get an order of work. In regard to land usage, I had stepped into various kinds of contracts for sale and for rent and got an order of various kinds of building work. It might have been marvelous to keep going up in the yearly turnover from 170billin yen to 1.2 trillion yen during my tenure for just 20 years.



Colleagues of Building Division



Mr.K(right side), my most thoughtful senior from rakugo reserch club in Hiroshima
Mr.M(left side), my junior, a high school rugby champion from Nara
(same generation with Hirao and Oyagi famous rugby players)

I married with my wife in the second year. Fortunately, two sons were given early. Anyway I made a great effort to achieve my own sales mission for a month, a quarter, a half and a year for my familly. It might have been the struggle for existence for 15 years of Osaka head office architecture division sales department. It had been unpleasant things naturally for me to curry favor with those in power and kick the weak down. Against the absurd things, I 'd used to make a direct appeal to the bosses with the resignation on a chest. If I look back, it might have been the sorrow of the salaried worker.



Toyonaka Inari Shrine New Year's visit with my family



with my family

I had been making great efforts to get various kinds of architectural building received orders for example, houses, apartment houses, factories, warehouses, tremendous kinds of stores as commercial buildings, office buildings, medical nursing facilities and so on for 15 years of Osaka head office architecture division sales department.
   
The next 5 years in the building business headquarters, I had been spreading and educating new development of food hygiene facilities (HACCP) and environmental plant by a national unit from Hokkaido to Okinawa on a one-day businese trip in the Tokyo starting point. Additionally, I had taken part in the writing of Food hygiene facilities (HACCP) and so on under the supervision professor Sadao Komemusi of Kinki university agricultural faculty (Rikuryo OB 71th).
   
I might have done about 100 numbers of buisiness (20 billion yen sales) at the spot front line directly for 15 years and immeasurable works indirectly for 5 years. Through works, I might have studied overseas real estate circumstances personally and foreseen the burst of Japan's real estate bubble.



company newsletter
After the burst of Japan's economic bubble Zen 35 years old

I might have been working too hard without thinking about gratitude of health. Because of excessive smoking, drinking and obesity over 80kg by the stress, I had experienced about 1 month hospitalization. Unfortunately, Mr.KM who was a sales ace of the same period and the captain of new baseball club, died suddenly for a cancer. I pray from the bottom of my heart his soul may rest in peace.

Even as for the activity except the work, I had been able to make daiwa house win the championship as supervision at Osaka-city member of society rubber-ball baseball tournament. Looking back now, it could have been a miracle to make the team win gathering up various kind of athlete. It had been in the age of bubble economy. Go, and go more...



company newsletter
Zen having the championship shield Matsushima baseball ground Nishi-ku,Osaka-shi 
Mr.H having the championflag was the classmate Takatsuki City Minami Okanmuri elementary school. I also won the championship of the district softball tournament at Takatsuki City with him.



Zen manager



Daiwa House baseball club reunion
Ishibashi president of the period of growth and
Higuchi president of the period of maturity
second row center
Zen is the front row right

Then in those days, there had been the man called Mr.Tokutaro Kawai. He was the managing director of the overseas division. Making him an adviser, I had started ESS club with Mr.N and younger members and run for several years. After a bubble burst and the retirement of Mr.N, it was dissolved, but I could have had a very significant experience.

As a local volunteer activity, I had been a baseball little league coach for six years. I could have made the little league team called Blue Tigers of Shoji elementary school win the championship tournament in Toyonaka city and contributed to local area. In the elementary school of the neighboring town there had been a boy W who joined Hanshin Tigers as a pitcher as the draft second place later. I can not forget that my second son hit a home run from him.



Even if win or lose, I could have good memories with my children



When my children were so small about 1990, I had been taking care of foreign students from foreign countries with my wife.
From left, Zen, Pitcher Nishio of the university baseball club same period, Thai foreign student



Sons and cousins at Nio beach in Mitoyo-shi, Kagawa



・・・・・・・・・・・・・・・・・・・・・・・・・・・・・・・・・・・・・・・・・・・・・・・・・・・・・・・・・・・・・・・・・・・・・・・・・・・・・・

Fifty years of human beings If you dive in the lower heavens, it will be like a dream
by Atsumori



at the trace of Yukimi Gosho in Kobe Fukuhara Palace built in 1180 by Tairano Kiyomori
[2010.10.10 Photo by Shoh]

The present condition of the family


With my family against a backdrop of Mount Fuji  [2011.12.29 Photo by Zen]

Wife: Based on her study abroad experience and Eiken Level 1, she is contributing to local junior high and high school students with full-scale English instruction. She also works as an interpreter for international students at local Osaka University.

The eldest son: After Okayama University information department of engineering graduation, to the communication industry as an IT engineer design architect, he works at a major communication company.

The second son: After Osaka University department of human science graduation, to the broadcast industry, he works TV station in Osaka. Furthermore, he is active as an amateur pianist.



60 years old, 2019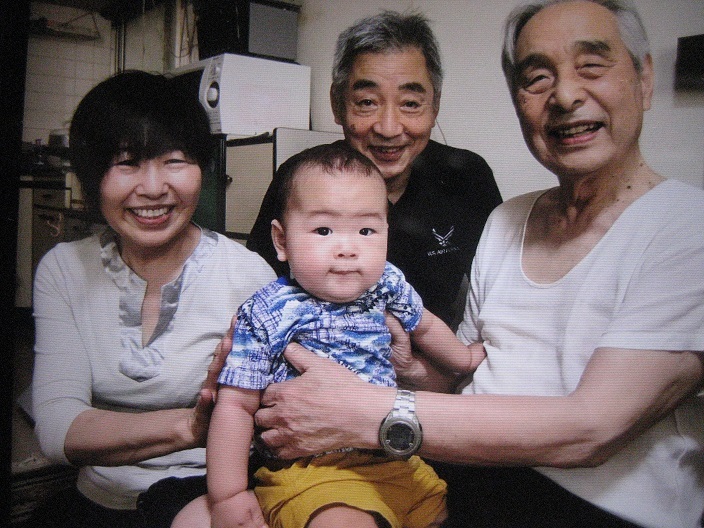 with Grand child, 2020


To be continued




Honolulu Hawai 2017.01.27
・ハワイの近代建築物1
2017.01.28撮影
・ハワイの近代建築物2
2017.01.28撮影
・ハワイの近代建築物3
2017.01.28撮影




Roma Italy 2018.01.19
・カゼルタ宮殿1【世界遺産】
2018.01.19撮影
・カゼルタ宮殿2【世界遺産】
2018.01.19撮影
・オストゥーニ & ロコロトンド
2018.01.23撮影
・アルベロベッロ【世界遺産】
2018.01.23撮影
・マテーラ洞窟住居【世界遺産】
2018.01.21撮影
・アマルフィ海岸1【世界遺産】地中海
2018.01.21~22撮影
・アマルフィ海岸2【世界遺産】地中海
2018.01.21~22撮影
・ナポリ1【世界遺産】の近代建築物
2018.01.22撮影
・ナポリ2【世界遺産】の近代建築物
2018.01.22撮影
・ナポリ3【世界遺産】の近代建築物
2018.01.22撮影
・ナポリ4【世界遺産】の近代建築物
2018.01.22撮影
・ローマ1【世界遺産】の近代建築物
2018.01.23撮影
・ローマ2【世界遺産】の古代建築物 コロッセオ
2018.01.23撮影
・ローマ3【世界遺産】の古代建築物
2018.01.23撮影
・ローマ4【世界遺産】の近代建築物
2018.01.23撮影
・ローマ5【世界遺産】の近代建築物
2018.01.23撮影
・ローマ6【世界遺産】の近代建築物
2018.01.23撮影
・ローマ7【世界遺産】の近代建築物
2018.01.23撮影




Lecture in Rikuryo Talk Relay 2019.03.02 Mr. Eiichi Nakakita




Lecture in Rikuryo Talk Relay 2019.10.12 Mr. Shinya Oku


<<【2】Personal history of Captain Zen prophase(2000~)工事中 | HOME | 大阪大学・豊中キャンパス正門から徒歩1分>>
COMMENTS
COMMENT FORM
TRACKBACK
| HOME |
月別アーカイブ
最近のコメント
最近のトラックバック